United Township High School Class Of 1960

Obituaries

Edmond Sandoval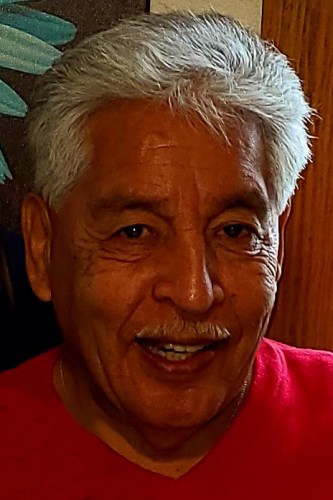 November 16, 1941-February 10, 2021
EAST MOLINE-Private funeral services for Edmund "Pep" Sandoval, 79, of East Moline, IL, will be live streamed Monday at 10am by logging into http://www.facebook.com/vanhoefuneralhome.
Burial will be in Rock Island National Cemetery. Mr. Sandoval died February 10, 2021, at Genesis, Silvis, IL.
Pep was born November 16, 1941, in Silvis, IL, the son of Encarnacion and Amalia (Herrera) Sandoval. He served in the U.S. Army during the Vietnam Conflict. He married Cathy Mahan January 21, 1967. He later married Pauline Munos July 14, 1990. She died August 14, 2020. He retired from John Deere Harvester, East Moline, with over 40 years of service.
He was an active member of Our Lady Of Guadalupe Catholic Church, Silvis, and the Mexican American Veterans Association (MAVA). He loved music and dancing. His world revolved around his family.
Survivors include his children, Tiffany (Tim) Spurgetis, East Moline, Tori Petre, East Moline, Jon Sandoval (Melissa Sheppard-Nelson), Silvis, Dave Munos, East Moline, and Pam (Mike) Savala, Davenport, IA; grandchildren, Nicole, Catherine, Maddii, Tyler, Shane, Evan, Julian, Molly, Shavonne, Jason, Jessica and Bradley; 15 great grandchildren; and 4 great great grandchildren; siblings, Frank (Theresa) Sandoval, Moline, Beatrice Puentes, Silvis, Phil (Manuela) Bonilla, Silvis, and Mary Lopez, Silvis: and sister-in-law, Laura Sandoval, Silvis.
He was preceded in death by his parents; wife; son, Michael Munos; siblings, Samuel Sandoval, Eloise (Manuel) Montez, Victoria (Alfonse) Lopez, and Dorothy Rangel; and brothers-in-law, Florencio Puentes and Gilbert Lopez.
Memorials may be made to Our Lady of Guadalupe Catholic Church or to MAVA.
Online condolences may be left for the family at www.vanhoe.com.