United Township High School Class Of 1960

Obituaries

Annabelle Wise Finch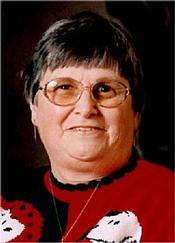 Annabelle Finch, 71, of Moline, IL, was called home by the Lord after a long fight with cancer, on Monday, October 15, 2012.
Visitation will be Wednesday, October 24nd, from 4:00 p.m. until 8:00 p.m., at Wendt Funeral Home in Moline. Services will be Thursday, October 25th, at 1:30 p.m., at the funeral home. Burial will be in Moline Memorial Park Cemetery.
In lieu of flowers, memorials may be made to the family.
Annabelle Wise was born in East Moline on August 24, 1941, to Thomas Perry & Anna Susan (Bell) Wise. She grew up with six sisters and two brothers, in Hampton and East Moline, where she made friends for life, and where she met her true love, Thomas Finch. She and Tom were married in East Moline on September 19, 1959, and raised their six children in Moline. Annabelle worked as a nurses aid at Oak Glen and Americana nursing homes, and then became a crossing guard for the city of Moline. She attended several churches, and was a member of P.T.A. and Dad's Club. She was very involved in her childrens' lives. She enjoyed playing dominos with friends, and liked to knit, having made afghans for all her children and grandchildren.
In addition to her husband, Tom, survivors include, children: Tom Finch of Moline, Steve (Debbie) Finch of Rock Island, Anna (Gary) Plotner of East Moline, Michele (Allen) Rutledge and Dennis (Julia) Finch, all of Moline, and Linda (Lloyd) Nelson of Craig, CO; grandchildren: Melissa, Rebecca, Nicholas, Haylee, Eric, Nick P., Allie, Mallory, Paige, Jorgia, Lee Anna, and Lawrence; three great-grandchildren: Zane, Oliver, and Pazilee; sisters: Wanda LaVine of Olney, IL, Rosemary Hassel, Helen Ruth Brown, and Gerry Sue Bledsoe, all of Silvis, IL, and Grace (Jack) Haskins of Hampton, IL; sister-in-law: Glenda Wise of Silvis; many nieces and nephews; and many good friends, especially a very special life-long friend, Linda Robinson.
She was preceded in death by her parents, brothers: John and Colonel, and a sister: Maggie.