United Township High School Class Of 1960

Obituaries

Elizabeth Simpson Munroe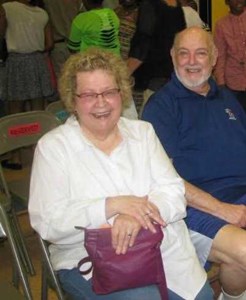 Elizabeth S. Munroe--Liz, Mom, or Grandma to everyone who knew and loved her--passed peacefully on December 18, 2020 at her home in Olathe, KS. Born Elizabeth Ann Simpson on September 16, 1942 in Moline, IL to John and Ruth (Lottman) Simpson, Elizabeth and her younger sister, Cathie, grew up in Silvis, Illinois. She was active in girl scouts, activities at the Silvis First United Methodist Church, and especially music, learning to play piano, organ, and clarinet. She and Cathie would accompany each other at various high school festivals and contests. After graduating from United Township High School in 1960, she attended the University of Kansas as a music education major, where she met and married fellow music major Richard Munroe on January 20, 1963. After graduating from KU, they made their home in Olathe, KS for over 50 years.

Mrs. Munroe spent her entire 43-year teaching career at Gardner Elementary School in Gardner, KS. Elizabeth started her career in music, followed by special education, where she earned a Master's Degree; she then earned her certification in computer science education. Outside the classroom, Elizabeth was instrumental in developing and implementing professional development curricula for the Gardner-Edgerton School District, and served for many years on the National Council for the Certification of Teacher Education (NCATE).

Professional work and achievements were only a small part of Elizabeth's life. Mom to three daughters, Melissa, Chandra, and Andrea, she and Richard were very active—and busy—parents keeping up with all of their activities. From directing the children's Cherub Choir at the Olathe First United Methodist Church with Richard, to being her daughters' accompanist, serving as project leader for Little Cedar 4-H Club, and musician for the Olathe Bethel of Job's Daughters and Olathe Chapter of Eastern Star, there was rarely a dull moment in Elizabeth's life. She also thoroughly enjoyed time with friends and family—and she loved them dearly.

Elizabeth is survived by her husband of 57 years, Richard, of the home, her daughters Melissa (Bill) Munroe Gipperich of Edmond, OK, Chandra Wacker of Olathe, KS, and Andrea (John) Fulcher of Wichita, KS, as well as grandchildren Aaron, Nathan, Lily, and Emma, and her sister, Catherine Strieter of Davenport, IA. She is preceded in death by an infant sister, Barbara H. Simpson, her father, John William Simpson, mother, Ruth Florence Simpson (Lottman), and brother-in-law, David Godehn Strieter.

Celebration of Life will be held at a future date when family and friends can come together safely after the COVID pandemic has passed. In lieu of flowers, the family would appreciate donations to Kansas Palliative & Hospice Care (https://kansashc.com/contact/donate/) or the KU Bands program (https://www.kuendowment.org/Your-Gift/Areas-of-Support/Lawrence-Edwards-Campuses/KU-Bands).