United Township High School Class Of 1960

Obituaries

Janet Fuller DeKoster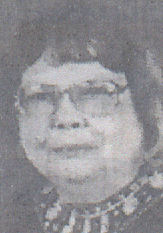 Services for Janet Fuller DeKoster, 57, Spanaway, Wash., formerly of Moline, Bettendorf and St. Charles, Mo., are 2 p.m. Wednesday at Asbury United Methodist Church, Bettendorf. The Rev. Dale Batcheler, pastor, will officiate. Burial is in Greenview Memorial Gardens, East Moline. Visitation is 6 to 9 p.m. Tuesday at Trimble Funeral Home, Moline, Illinois.
Mrs. DeKoster died Thursday, July 22, 1999, at Good Samaritan Hospital, Puyallup, Wash.
The former Janet Kay Fuller was born March 16, 1942, in Moline, the daughter of Marion and Daisy (Beal) Fuller. She graduated from United Township High School, East Moline, and Western Illinois University, Macomb. She married Arthur Ward DeKoster June 12, 1965, in East Moline.
She was a teacher in LeClaire, Iowa, and a substitute teacher in Pleasant Valley, Iowa, and later worked as a social worker for the cities of St. Charles and St. Louis, Mo.
She was active in Bible-study fellowships at Asbury United Methodist Church, Bettendorf, First United Methodist Church, St. Charles, and Summit United Methodist Church, Tacoma. She enjoyed square dancing, sewing, and doing craft work.
Survivors include her husband, Ward, Spanaway; a daughter, Gina DeKoster, a son and daughter-in-law, Greg and Jeannine DeKoster, and a granddaughter, Rebecca DeKoster, all of St. Louis; and a brother and sister-in-law, James and Heather Fuller, and nieces, Tiffany and Amber Fuller, all of Dubuque, Iowa.