United Township High School Class Of 1960

Obituaries

Jerold C. Fick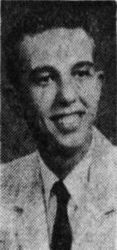 Services for Jerold C. Fick, 20, of 429 11th Street Silvis, will be at 1:30 p.m. Wednesday in Schroder Chapel, Silvis. Burial will be in Hampton Cemetery.
He was found dead Sunday afternoon (December 9, 1962) in his car, which was parked in a garage near his home. Friends may call at the mortuary. Coroner Leslie Bannng said an inquest will be scheduled. Death was reportedly caused by carbon monoxide poisoning. It is believed he fell asleep while warming the car motor.
He was born in Moline and was graduated from United Township High School. He worked at East Moline Works, International Harvester.
Surviving are his parents, Mr. and Mrs Alfred Fick; a brother Lyle, at home, and the maternal grandfather, George Cobb, Milwaukee, Wis.