United Township High School Class Of 1960

Obituaries

William Cremeens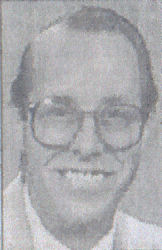 Services for William C. Cremeens, 54, of 830 1st Ave., East Moline, are 10:30 a.m. Saturday at Sullivan-Phillips Mortuary, East Moline. Burial is in Hampton Cemetery. Visitation is 2 to 4 and 6 to 8 p.m. today. A memorial fund has been established. Mr. Cremeens died Tuesday, Jan. 7, 1997, at Illini Hospital, Silvis.
He was born July 20, 1942, in Moline, the son of Marquis and Anna Mary Sable Cremeens. He had been employed at Duke & Company, East Moline, and most recently worked at Longly Times Systems, Moline, retiring in 1987. He was a Marine veteran, having served during peace time. He was of the Baptist faith. He enjoyed playing chess, pool and reading.
Survivors include a daughter and son-in-law, Sheryl and Jose Garcia, San Antonio, Texas; a grandson, Dakota Toney, San Antonio; his mother, Hampton; a sister Janice Thorpe, Hampton; a brother and sister-in-law, Dewayne and Jill Cremeens, Rapids City; nieces and nephews, Kevin Thorpe, East Moline, Mark Thorpe, Moline, Tonya Sebben, of Kentucky, and Tera Cremeens, Rapids City; and several great-nieces and nephews.