United Township High School Class Of 1960

Obituaries

Carolyn Mitts Leisure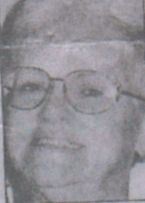 Carolyn Leisure, 65, of East Moline, died Dec. 27, 2007, at her home.

Funeral services will be 1:30 p.m. Thursday, Jan. 3, at Christ United Methodist Church, East Moline. Visitation will be 4 to 7 p.m. Wednesday at Esterdahl Mortuary & Crematory, 6601 38th Ave., Moline. Burial will be in Greenview Memorial Gardens, East Moline. Memorials may be made to her family.

Carolyn Dellamae Mitts was born Jan. 25, 1942, in Kewanee to Flossie B. Price and Homer Mitts. She attended elementary school in Orion and Briar Bluff near Colona and graduated from United Township High School in 1960. She married Wandal Heatherly May 23, 1961, in East Moline and later married Ralph W. Leisure April 8, 1967, in Colona.

She started work as a car hop in Colona and Silvis. She then worked retail for F.W. Woolworth, W.T. Grant and Zayers. She worked at Servus Rubber for five years before becoming a stay-at-home mom in 1969. She went back to work in 1985 at Sears and then at Ben Franklin. She retired in 2004 from Target.

Carolyn was a member of Christ United Methodist Church, East Moline, and was a former member of the PTA. She loved her family and loved to cook and entertain, garden, crochet, sew quilts for her grandchildren and do crafts with her grandchildren.

She is survived by her husband, Ralph, East Moline; daughters, Sylvia (Rick) Nimrick, Port Byron, Sandra Heatherly, East Moline, Chris Leisure, Decatur, Ala., Trisha (Tom) Burgeson, Cambridge; sons, Mark (Sheri) Leisure, Ankeny, Iowa, and Dale (Kay) Leisure, West Alexander, Pa.; 13 grandchildren; eight great-grandchildren; sister, Wilma Whitehair, Cambridge; seven nieces and nephews; 13 great-nieces and -nephews. She was preceded in death by her parents; a brother and his wife, George and Anne Mitts; brother-in-law, Robert Whitehair; grandson; great-grandson; and daughter, Rae Ann Beberich.

Online condolences may be expressed to Carolyn's family by visiting her obituary at www.esterdahlmortuary.com.