United Township High School Class Of 1960

Obituaries

Louis Belman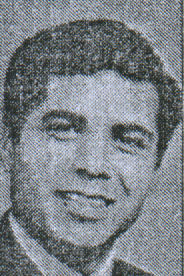 Services for Louis J. Belman, Jr., 55, of 775 S. 2nd Street, San Jose, Calif., formerly of Silvis, are 10 a.m. Thursday at Our Lady of Guadalupe Catholic Church, Silvis. Burial is in Rock Island National Cemetery.
Visitation is 2 to 4 and 6 to 8 p.m. Wednesday at Schroder Mortuary, Silvis, with a rosary recited at 6. Memorials may be made to the church.
Mr. Belman died Saturday, October 25, 1997, in San Jose.
He was born March 3, 1942, in Moline, the son of Louis H. and Erlinda Valle Belman.
He was a computer engineer. He worked in missile maintenance in the Army. He enjoyed reading and traveling around the country on his motorcycle.
Survivors include his parents, Silvis; sisters, Cecelia Belman, Silvis, Rose Ann Pena, Silvis, Linda M. Foley, Davenport, Karen R. Martel, Albuquerque, Teresa D. Pearce, Cordova, Sharon K. Remour, Hillsdale, Audrey Beale, Silvis, and Felica Carlson, Lynn Center; Brothers, Richard Belman, Whittier, Calif, Arthur Belman, East Moline, and Michael Belman, Silvis; and many nieces and nephews.