United Township High School Class Of 1960

Obituaries

Patricia Akers Bradney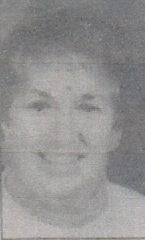 Patricia L. Bradney, 54, of 10501 114th St. Coal Valley, died Saturday, July 6, 1996, near Kenai, Alaska, in a boating mishap.
Memorial services are 10 a.m. Wednesday at St. Maria Goretti Church, Coal Valley, where she was a member. Visitation is 9:30 a.m. to service time at the church. Memorials may be made to Dreams Come True, Box 881, Bettendorf, or Bethany Home, Moline.
The former Patricia L. Akers was born March 29, 1942, in Moline, the daughter of Herman and Naomi Akers. She married Chuck Bradney Dec. 2, 1967. She was a graduate of St. Anthony's School of Nursing. In earlier years she was employed at St. Anthony's Hospital, Rock Island, and was an Emergency Medical Technician for the Coal Valley Volunteer Ambulance Service, Coal Valley, for several years. She was a member of Rural Township Home Extension Service. She enjoyed working in the family's apple orchard, sewing and volunteer work.
Survivors include the widower; sons, Craig and Chad Bradney, a granddaughter, Courtney Bradney, all of Coal Valley; sisters, Janice Lasek, East Moline, and Linda Bowman Eastman, Rock Island; a brother, Richard Akers, Davenport; and several nieces and nephews.